PALLET Racking solutions for your business
50 years experience as a leading materials handling manufacturer has enabled us to develop a series of racking systems to make storing and handling your goods a far simpler process. Easily installed, cost-effective and versatile, our pallet racking solutions are one of the most widely used systems available today.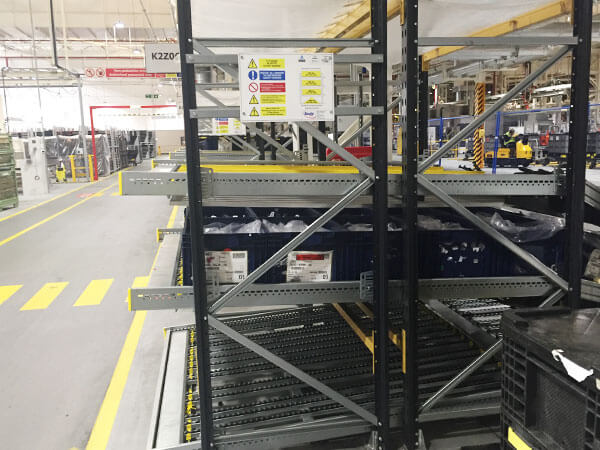 CARTON FLOW RACKING
Carton live storage or flow racking operates on the same principle as pallet live storage but is used for stock which needs to be hand-loaded and picked.
PUSH BACK RACKING
Effectively utilising floor and cubic space, dynamic Push-back racking is amongst the most space and time-efficient pallet storage systems available.
PALLET LIVE RACKING
Working on a first-in, first out basis, dynamic Live Palletstor provides extremely high levels of storage density in a given area.
BARRIER RAILS FOR RACKING AND EQUIPMENT
Palletstor Barrier Rails have been developed to allow organisations throughout industry to protect equipment and facilities, which are vulnerable to accidental fork truck damage.
WIDE AISLE STANDARD RACKING
With adjustable beams, racking can be re-configured to accommodate changes in the type of goods stored and wide aisles allow access by all types of truck, making specialised handling equipment unnecessary.
DOUBLE DEEP RACKING SYSTEMS
A variant on standard adjustable beam racking, Double-deep Palletstor, as the name implies, allows pallets to be stored two deep but still accessible from the same aisle.
DRIVE IN RACKING SYSTEMS
Palletstor drive-in racking provides a highly space- efficient solution to the storage and throughput of palletised goods.
NARROW AISLE SOLUTIONS
By allowing forklift trucks to operate in aisles up to half the width required in conventionally adjustable beam pallet racking, Narrow Aisle Palletstor makes excellent use of floor space and maximises the height at which goods can be stacked.